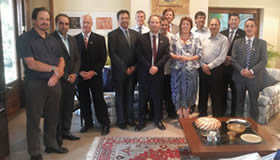 The informal lunch was organized on Tuesday to have the visiting producers and companies representing some of them to interact with the Indian experts, journalists and importers to get to know the Indian wine scene and find out a strategy to sell more New Zealand wines which otherwise sell in small numbers.
Protagonists for the afternoon were neither the wines, nor the food or service alone. Wines were great, mid level wines-there were plenty of labels and though I didn't get a chance to taste many reds due to paucity of time (swish, swirl but no spitting) whichever I tasted were good, especially a Bordeaux Blend from Franklin Groves. Wines available for tasting followed by lunch were: Waimea Estates-Sauvignon Blanc, Gewürztraminer, Pinot Gris, Chardonnay and Pinot Noir, Dog PointMarlborough-Sauvignon 2011, Section 94 Sauvignon 2011, Pinot Noir 2011, HahaMarlborough- Sauvignon 2011, and Pinot 2011, James –Pinot Noir 2008,Trinity Hill – Gimblett Gravel 2011, Main Divide- Sauvignon 2012, Pokiri Reserve Pinot Gris 2009, Lowburn Ferry-Pinot Noir Reserve 2010.
There were yet a few more like Pegasus Bay that had been served as a part of the big dinner organized by Her Excellency Jan Henderson, the High Commissioner of New Zealand, at a Reception she had organized last Saturday for a big delegation the visit which had been organized by ANZ Bank where the numbers of invitees were in the 3 digits and the atmosphere was not conducive to wine tasting but eating a lot of delicious food and whatever was poured in your glass.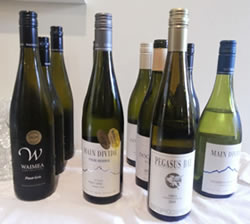 White wines at the lunch, with the sun shining brightly outside, were mostly delicious. The Waipara Riesling from Pegasus Bay was fruity and a tad too sweet as it had been made from Late Picked Riesling. It was a very good quality wine that should be tasted with a morsel of hot Indian food only. Similarly, the Section 94 Sauvignon Blanc from Dog Point may not find many takers in India because of aggressive wood that comes from fermenting Sauvignon in a Barrique; it would need to marry with a perfect dish like smoky fish or tandoori fish tikkas or perhaps a Dum Pukht style biryani. All the whites and Pinot Noirs were clean, well-made wines that had New Zealand written all over them and would need to find takers who are willing to pay the price that is as high as one anticipates about the NZ wines of quality.
The Menu was well crafted and the food was very well prepared by the Indian staff and the fusion food had more than one perfect wine to match with every dish - whether it was the Entrée - Vegetable parcels with salsa - or the chicken and risotto based Main Course which had a few other accompaniments as well. The desserts were delectable too, especially the Pavlova, the meringue-based New Zealand dessert. The service was generous and impeccable-by her personal staff. The conversation and discussion was frank and informal and hinged on wine market and laws, and the high prices of NZ wines made even higher on the wallet because of our high taxes.
It was good to know that the ceremonial monarch, Queen Elizabeth of New Zealand (shared by the UK, New Zealand and Australia) was quite respected and liked in New Zealand whereas Prince William and Kate were the darlings of the NZ youth.
The protagonist of the lunch was truly the High Commissioner herself. She was absolutely delightful, warm and friendly, totally informal and extremely welcoming. She made every guest feel comfortable and special and shared interesting stories about various interesting subjects. She laughed at the jokes and even made a couple of innocuous ones. One might say she was a perfect diplomat but she surely did go beyond the call of duty. One meets diplomats frequently, especially from the wine producing nations but it does not take much to see that behind their welcome, there is mostly diplomacy hidden. Not this lady!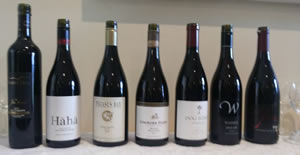 No wonder she has made a large number of Indian women friends in Delhi and before she goes back after this assignment, it would not be surprising that all of them are in love with the New Zealand Sauvignon Blanc even if they are currently teetotalers!
Of course she didn't flinch while addressing the small group at the table with only four of us being non-kiwis, and telling everyone that when her Prime Minister told her to take the responsibility of representing New Zealand in India, he urged her to increase the economic trade with India and that is what she was doing here. One hopes that we are able to increase our exports to New Zealand too besides increasing imports of food, wine and other allied products for which some committed kiwis are setting up offices in India - Quality NZ is one such company representing 16 different units of products, that has opened an office in Bangalore and the Managing Director of India operations, Geoff Thin and Geoff Allott, Head of New Zealand operations were both present at the lunch.
Disclosing her little secret, Her Excellency  admitted she could not drink still wines as they gave her some sort of allergy. But fortunately, when she has a double fermented bubbly made by Pernod Ricard in New Zealand, she has no problems perhaps because with the double fermentation the negative effect is somehow negated, she feels. This point would be of interest to many Indians who get headaches immediately after drinking a glass of wine. Unable to think of a scientific, plausible explanation, I wondered why it was not exported to India. 'The fact that they are already exporting Jacobs Creek Sparkling Brut from their Australian stable', was the theory propounded by Richard White, Trade Commissioner and co-host for the event. It would make business sense if they choose not to export the NZ bubbly to India.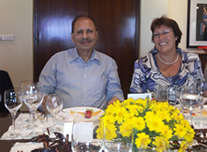 The afternoon was truly memorable and the experience worth penning down for our readers. While leaving, my thoughts went back to a decade ago when an enterprising young Indian living in New Zealand and representing a few Kiwi wineries had visited India and invited  me and requested a few members of the Delhi Wine Club to attend a wine tasting dinner hosted by the then High Commissioner at the same venue. There were some excellent wines but the Indian food served in the buffet style was quite average and the guests were called in lots to the dining room to pick up their plates, reminding one of the NCC camp when I was studying in IIT Delhi. I am glad that only faint memories remain and though the hostess was polite and welcoming, it was not a memorable experience. The wines were ahead of their time - India had just opened up wine imports. It is a pity the gentleman never came back to promote the wines. Wine import was as tough then as it is today!
But I am sure that after another decade, I would have as fond memories about the lunch on Tuesday as I do today. A toast to the bubbly Mrs. Henderson!
Subhash Arora
April 25 is known as  ANZAC Day in New Zealand to commemorate the war they fought along with Australians in 1915 as a part of the British Army, fighting the First World War against Turkey as Germans Allies . Kiwis lost the battle and thousands of lives along with Aussies and Turks but also discovered a sense of identity. Partly due to this fact and partly to pay homage to the unknown soldiers, this day is being commemorated since 1916. H.E. Mrs. Henderson related to me the story as I was wondering why the tents were being pitched in her lawns now that the big dinner had concluded the previous Saturday. 'We invite Australians and the Turkish community in the spirit of reconciliation and friendship after the 8-month Gallipoli campaign. We commemorate it and call it Anzac Day,' she said. DelWine dedicates this article to the ANZAC Day and for a growing friendship between India and New Zealand. Editor